Invisible Braces for Teenagers
Dorset Orthodontics offers Invisalign Teen treatments which have become a very popular solution for solving various smile issues in teens. Instead of brackets and wires, Invisalign® clear aligners are made of smooth, removable SmartTrack plastic material that's virtually invisible, allowing your child to smile with confidence, take selfies, play musical instruments and eat their favourite foods.
What is the Invisalign Teen system?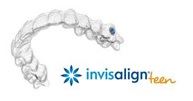 Behind the Invisalign Teen system is an industry-leading team of renowned scientists and engineers, who are continuously innovating to improve the path to a beautiful, straighter smile. Today, the Invisalign Teen system consists of:
Invisalign treatment differs from traditional non-removable metal brackets because Invisalign comprises a set of a few transparent, custom-moulded clear aligners, which can be removed for up to 2 hours each day. This allows for more freedom in any busy teenager's lifestyle. Invisalign Teen also has a few special features, designed specifically for teenagers:
Invisalign Teen comes with blue wear-indicators. These fade from blue to clear on each clear aligner to help you, your orthodontist and your teenager themselves to gauge wear over time.
Six free replacement aligners are included (in case any get lost or misplaced, e.g. when playing sports).
Invisalign Teen aligners have special features designed to guide the growth of new teeth (canines, second premolars and second molars), helping them to get to a planned, straighter position.